BLADE SERIES - AIR-COOLED - BASE MOUNT
Model(s): BLADE 8 LX, BLADE 8 HX, BLADE 12 LX, BLADE 12 HX, BLADE 15 LX, BLADE 15 HX, BLADE 18 LX, BLADE 18 HX, BLADE 22 LX, BLADE 22 HX
BLADE SERIES - 80-GALLON TANK MOUNT, AIR-COOLED
Model(s): BLADE 8 LX-TM, BLADE 8 HX-TM, BLADE 12 LX-TM, BLADE 12 HX-TM
BLADE SERIES - 120-GALLON TANK MOUNT, AIR-COOLED
Model(s): BLADE 8 LX-TM 120, BLADE 8 HX-TM 120, BLADE 12 LX-TM 120, BLADE 12 HX-TM 120
BLADE SERIES - SE QUALITY AIR STATION - 80-GALLON TANK MOUNT, AIR-COOLED
Model(s): BLADE 8 LXTM-SE, BLADE 8 HXTM-SE, BLADE 12 LXTM-SE, BLADE 12 HXTM-SE
BLADE SERIES - SE QUALITY AIR STATION - 120-GALLON TANK MOUNT, AIR-COOLED
Model(s): BLADE 8 LXTM-SE 120, BLADE 8 HXTM-SE 120, BLADE 12 LXTM-SE 120, BLADE 12 HXTM-SE 120
Note: Fixed-speed models 8-22 include tri-voltage 208-230/460V motor.
Working pressures: 109 psig for 116 psig version - 138 psi for 145 psi version.
Note: Product is built with UL/ETL/CSA approved components. Agency approval is available at no extra cost if specified on initial purchase order. Purchase order must state if UL or CSA approval is required for the entire compressor. May affect lead times.
---
Direct Coupling
The electric motor and the compressor are coupled directly by means of flexible coupling and turn at only 1500 rpm.Direct coupling determines a remarkable "energy saving" because there are no energy losses caused by gears or V belts.
User-friendly Controller
Maestro XB is a programmable controller that regulates the operation of the compressor to suit the specific requirements of the air distribution system. It has different programming levels and special options for controlling and analyzing operation and faults. Microprocessor control and protection systems, such as the Maestro XB, are an excellent way to ensure that your system is both flexible and adaptable, helping you improve energy efficiency and cut energy costs.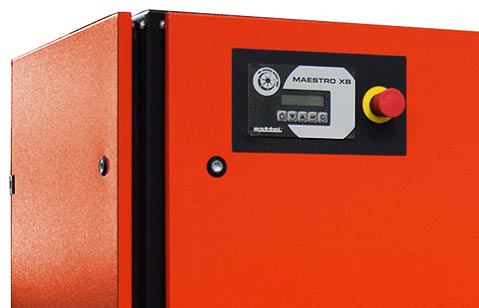 Automatic condensate drain and separator kit
The kit is of a condensate separator and an intelligent zero-loss electronic condensate drain.

Maestro XB expansion module
It allows the remote signaling of on/off controls by means of volt-free contacts and hourly programming. If more compressors are connected (max.4), it allows the sequence management. (Option on Base Mount, Tank Mount)

Cabinet Heater Kit
Ambient heater block mounted inside the cabinet. Protects the compressor package from freezing in ambients to +14oF.


BLADE SERIES - BASE MOUNT, AIR-COOLED

BLADE SERIES - 80-GALLON TANK MOUNT, AIR-COOLED
BLADE SERIES - 120-GALLON TANK MOUNT, AIR-COOLED
BLADE SERIES - SE QUALITY AIR STATION - 80 GALLON TANK MOUNT, AIR-COOLED
BLADE SERIES - SE QUALITY AIR STATION - 120 GALLON TANK MOUNT, AIR-COOLED