THE INDUSTRY-WIDE BENEFITS OF ROTARY VANE AIR COMPRESSORS
The inherent design of rotary vane air compressors is far superior to traditional screw compressors, with unmatched efficiency, service life and cost-effectiveness. It is for this reason that vane compressors are counted on by so many industries, for so many different applications.
Mattei's new eBook, The Industry-Wide Benefits of Rotary Vane Air Compressors, discusses how rotary vane compressors are used within a variety of industries. We also provide product recommendations for industry-specific applications.
View E-book
ROTARY VANE VS. ROTARY SCREW COMPRESSORS. WHAT'S THE DIFFERENCE
Although rotary vane and rotary screw compressors were developed at similar times and are designed to perform the same function, the two technologies differ greatly.
So, how do they match up?
To learn how these two types of compressors compare in terms of design, efficiency, longevity and maintenance, we encourage you to check out our new infographic, Rotary Vane vs. Rotary Screw Compressors: What's the Difference?
View Infographic
Rotary Vane Compressor Operating Principle
Maximum efficiency of the air compression process, excellent reliability and low running costs; are just some of the key benefits that rotary vane technology can offer. The vane compressor is a volumetric rotary compressor that consists of a stator cylinder in which a rotor is mounted off-center but parallel to its sides. The rotor has slots in which the vanes are free to slide: centrifugal force keeps them in contact with the sides of the stator during rotation.

The rotary vane compressor, thanks to its simple construction, offers remarkable advantages, first among them being greater volume yield because the vanes are in constant contact with the inner wall of the stator and form a perfectly airtight seal with no leaks along the wall thanks to a continuous film of oil. In this type of compressor no axial thrust is generated so the side surfaces of the rotor are not subject to wear and thus no rotating bearings or thrust bearings are needed. The vanes, too, because of the special way they are made have practically unlimited life. Behind the success of Mattei compressors there is thus extreme reliability, long life, quiet operation and simplicity of maintenance. Design is important too: compactness and clean lines, together with harmonious shapes, give Mattei compressors an image of robustness and ease of use.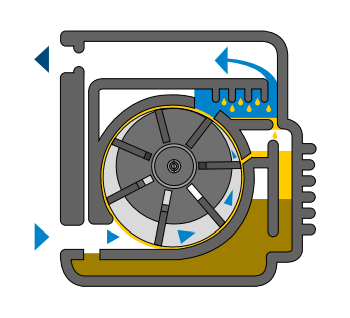 Energy Savings With Mattei
Compressed air is a reliable and widely used power source in a variety of industrial sectors, thanks to its safe and simple production. On the other hand the use of compressed air involves considerable energy costs, amounting to around 10% of the total industrial electrical energy consumption. The energy efficiency of compressed air production systems is therefore very important in order to reduce their operating costs.

Sizing the compressed air equipment appropriately, choosing the most suitable compressor according to the site's compressed air consumption profile, managing the compression process with advanced control and regulation, systems including appropriate air treatment and energy recovery, are only a few examples of the valuable services that Mattei is able to provide its customers, in order to achieve energy savings amounting to over 30%.