BLADE i SERIES - AIR-COOLED - BASE MOUNT
Model(s): BLADE 8i, BLADE 12i, BLADE 15i, BLADE 18i, BLADE 22i
BLADE i SERIES - 80 GALLON TANK MOUNT - AIR-COOLED
Model(s): BLADE 8i-TM, BLADE 12i-TM
BLADE i SERIES - 120 GALLON TANK MOUNT - AIR-COOLED
Model(s): BLADE 8i-TM 120, BLADE 12i-TM 120
BLADE i SERIES - SE QUALITY AIR STATION - 80 GALLON TANK MOUNT - AIR-COOLED
Model(s): BLADE 8i-TM, BLADE 12i-TM
BLADE i SERIES - SE QUALITY AIR STATION - 120 GALLON TANK MOUNT - AIR-COOLED
Model(s): BLADE 8i TM-SE 120, BLADE 12i TM-SE 120
*Note:
BLADE i models are only available in 460 volt. / Working pressures: "i" versions are adjustable from 102 to 145 psig.
*Note:
Product is built with UL/ETL/CSA approved components. Agency approval is available at no extra cost if specified on initial purchase order. Purchase order must state if UL or CSA approval is required for the entire compressor. May affect lead times.
Unrivalled Efficiency
Rotary vane technology allows MATTEI BLADE compressors to be 20% more efficient compared to our competitors' compressors.

With BLADE, maintenance costs will be significantly less than those of our competitors' traditional compressors. This is due to the reduced maintenance requirements and the competitive price of original spare parts.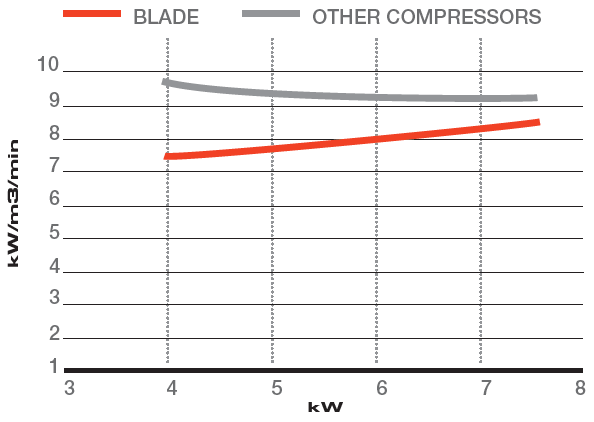 Note: Condensate drain and separator kit comes standard on the BLADE i 15, 18, & 22
BLADE i SERIES - BASE MOUNT, AIR-COOLED

BLADE i SERIES - 80-GALLON TANK MOUNT, AIR-COOLED
BLADE i SERIES - 120-GALLON TANK MOUNT, AIR-COOLED
BLADE i SERIES - SE QUALITY AIR STATION - 80 GALLON TANK MOUNT, AIR-COOLED
BLADE i SERIES - SE QUALITY AIR STATION - 120 GALLON TANK MOUNT, AIR-COOLED